World's Largest Offshore Wind Farm Starts Generating Electricity in UK.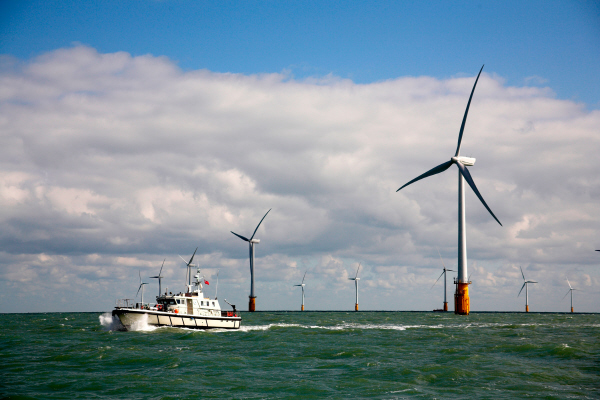 A boat is dwarfed by the enormous wind turbines
by Jamie Cook
The world's largest offshore wind farm started generating electricity a few days ago on 23 September 2010. Known as the Thanet Offshore Wind Farm, it is the size of a small town. It encompasses 35 square kilometers,equivalent to 4,000 football pitches.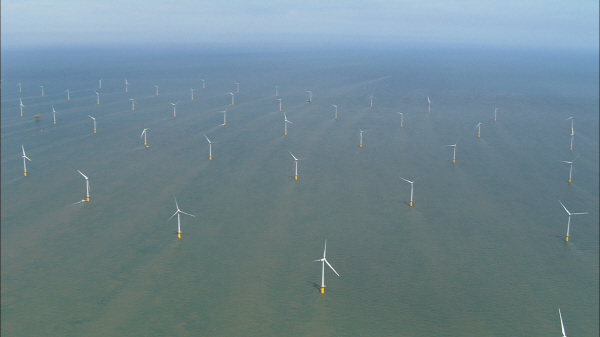 Aerial view showing turbines in rows
by Lavernder Blue
Located 7 miles from the kent shore, the 100 turbines are neatly alligned in multiple rows. The distance between each turbine is roughly 500 meters along the rows and there are approximately 800 meters between each row .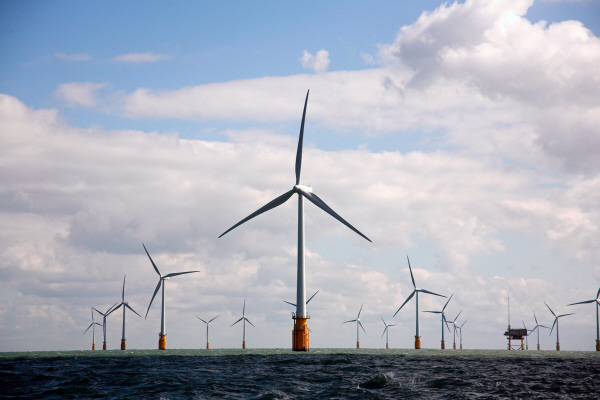 Thanet from the sea
by Jamie Cook
Travelling in a boat or craft up close to the turbines, the enormous scale of the project be appreciated. Each one of the turbines is a whopping 115 metres in height. That's around two and half times the height of England's Nelson column, which itself stands at around 50 metres high (approximately 164 feet). Putting it differently, they're the height of around 25 double decker London busses stacked on top of each other. They're impressive things, these turbines!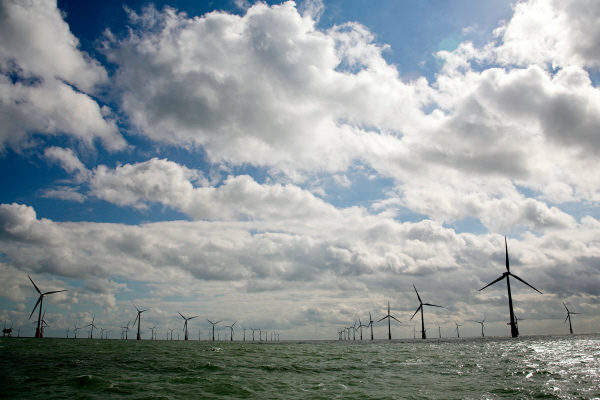 Rows of Thanet's offshore wind turbines seen from sea level
Picture by Jamie Cook
The English county of Kent has a population of 1,660,100 people. On a windy day, when running at full capacity these wind turbines could generate 300 Megawatts which is enough power for half of Kent's population, in other words around 830,050 people.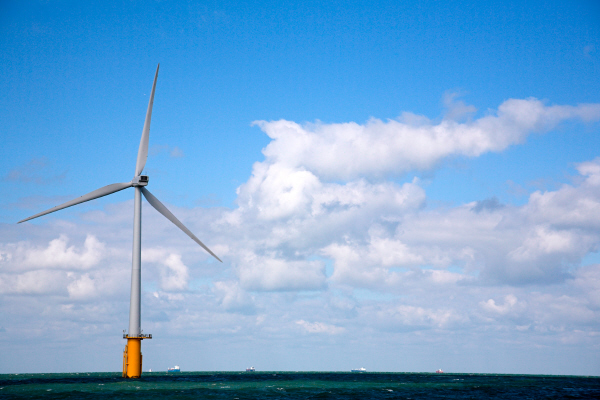 A single turbine against a blue sky
Photo by Jamie Cook
Great Britain has more offshore wind farms than any other country in the world. This is partly due to the prevailance of winds arouind the British Isles. There are a lot of turbines in Scotland for example, due to the paricularly windy nature of the coast around that area.
The UK government is betting that wind power is the future of green energy. It aims that by the year 2020, around one fifth of the UK's energy should come from wind power. Currently in 2010, the proportion of the UK's total energy usage which is wind powered is only around 2.5%
Thanet is certainly one of the world's most ambitious green energy projects.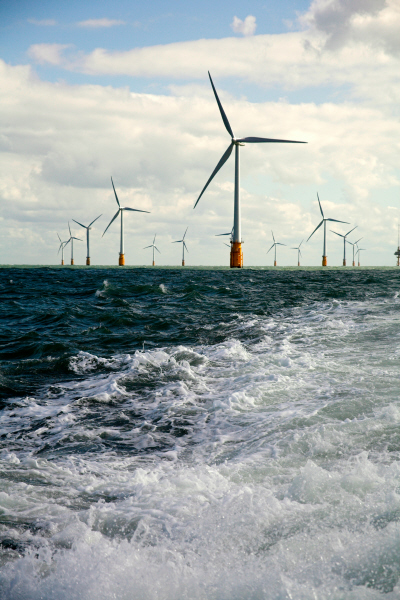 Sailing away from the world's largest offshore wind farm
By Jamie Cook
Some people fail to see wind power as a decent answer to the United Kingdom's energy problems. They call the UK's plans for wind power a big gamble. Energy expert Professor Ian Fells for example is worries about what he calls the government's infatuation with offshore wind power, due to its expense and the intermittent nature of the power produced. He thinks that other renewable energy altenatives have been starved of support in favour of wind power and that the other alternatives should be given more priority.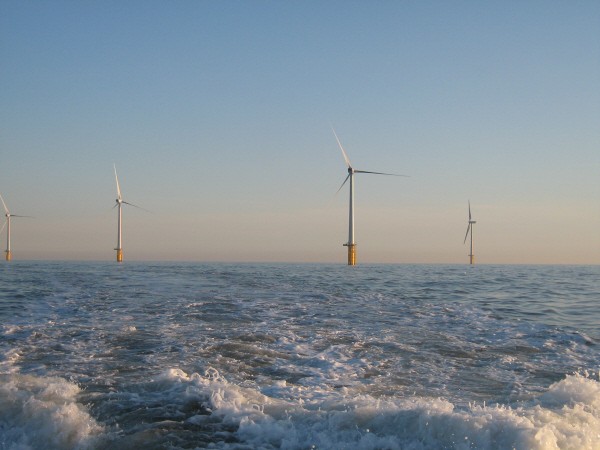 Frothy sea with distant wind turbines
By Mandy Broughton
Thanet itself cost $800 million UK pounds and took just over 2 years to costruct. Wind power is heavily subsidised, which results in higher energy bills in general but thankfully many of the British public do see the wisdom in producing renewable energy, realising that sustainability needs to be the way forward. Rather than over reliance on nuclear power production they see wind power as a good thing. Indeed on a nice day looking out to sea, the Kent wind farm has been descibed as a beautiful sight.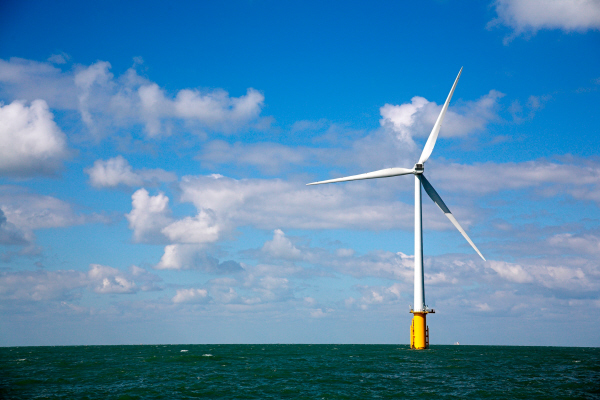 Photo of a Thanet wind turbine
By Jamie Cook
Ole Bigum Nielsen, of the Vattenfall Energy company which operate the wind farm, states that wind power is a proven technology which has been used for several years in other European countries, and is definitely one of the renewable sources of energy which will be used in the future. The company, Vattenfall, is well experienced in wind energy. It owns, either fully or partially, 8 offshore European windfarms, and currently produces a quarter of the world's total offshore wind power.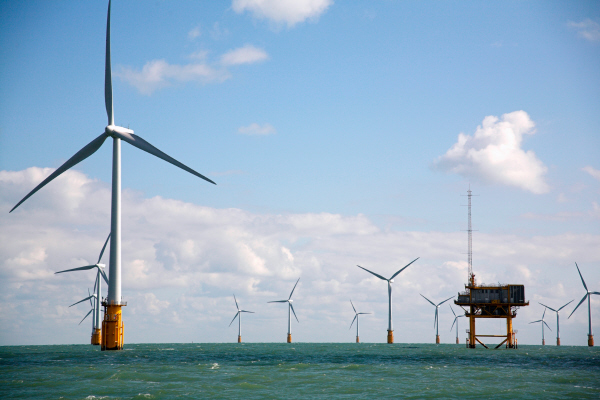 Picture of wind turbines
By Jamie Cook
This is only the beginning for wind power in the UK. Much more is planned. A big step planned for the near future by Vattenfall is something called the East Anglia Array. This will be a giant offshore wind farm off the east coast of the UK. Preliminary investigations show that East Anglia could probably produce around 7,200 meagawatts using 10 Megawat turbines.
Curently Vattenfall is also constructing another project in the Irish Sea. Known as the Ormonde Offshore Wind Farm, this will comprise 30 turbines, each with a 5 megawatt generation capacity