Help Plant Trees by taking a Test Drive in an Electric Car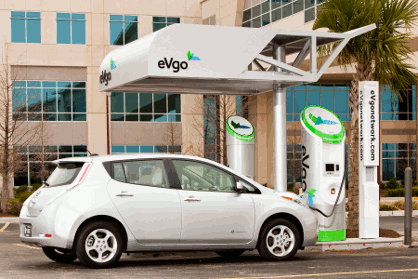 A Nissan LEAF electric car recharging at an eVgo Freedom station. In a charge period of 15 minutes the station can provide the vehicle with enough power to travel an extra 50 miles.
Are you curious about electric cars but never taken the step of trying one out? Now there's an added incentive, as just by taking a test drive you can actually help to plant trees in areas devastated by tornadoes and drought.

Throughout the year of 2011, Texas endured one of the most terrible doughts since records began. Tornadoes, together with hail and fire damage have resulted in even more destruction in North Texas during 2012. The Texas Forest Service have esimated that together the tornadoes and drought have killed over 500 million trees throughout Texas, which is 10% of the overall treee population in the state. Some trees, although still standing, have been weakened so much that they are unlikely to continue to survive, being susceptible to disease and insets in their delicate state. It's estimated that 66 million trees in total in the Houston area alone will die because of the drought.
Trees aren't just majestically beautiful plants but they also help to improve air quality and reduce greenhouse gasses by absorbing carbon dioxide. North Texas has the 12th worst air quality in the USA according to the American Lung Association. More trees will help improve this air quality.

To help re-establish the tree population in North Texas and Houston, a company called eVgo which specialises in providing electric vehicle charging stations for homes and businesses has teamed up with car dealerships and energy providers to create a program known as EVs for Trees. If you take a test drive of a Mitsubishi "i" or a Nissan LEAF electric car at one of the participating car dealerships before 1st December 2012, $25 will be donated by the dealer toward one of two separate projects. You can choose between the Trees for Houston project or the Texas Tree Foundation in North Texas.

Trees for Houston is a non-profit organisation committed to protecting planting and promoting trees. They have planted more than 430,000 trees to improve the Houston area since the organisation began in 1983.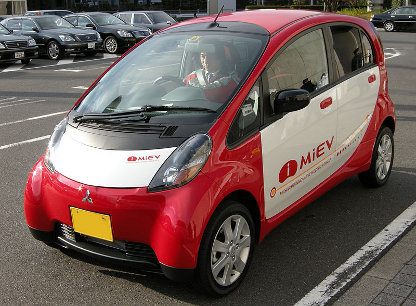 The Mitsubish "i" Electric Vehicle.
Texas Trees Foundation is also a non-profit organisation. Their aim is to protect and enhance what they term as the "urban forest", whilst also helping people learn to be good custodians of our trees.

The donation of $25 will be given on your behalf for test-driving one of the two electric car models featured in this offer. If you wish, you can choose to test drive both the Mitsubishi "i" and the Nissan LEAF, and you'll get $25.00 donated for each model. Furthermore,Reliant Energy or Green Mountain Energy will donate $25 extra if you're a customer of theirs. Therefore, if you test drive both electric vehicles and you're a customer of Green Mountain or Reliant, a total of $75 could be donated to your local tree preservation scheme.

You can download vouchers for the EVs for Trees test drive promotion from EVsforTrees.com. They'll also be distributed at eVgo displays at the Texas State fair and around 80 other events throughout Texas. Once you've got you voucher, just take it along with you to one of the participating car dealerships and enjoy a test drive of one of the Nissan LEAF or Mitsubisi "i" electric cars to create the donation to the Texas Tree Foundation or Trees for Houston. You don't need to actually purchase one of the cars for the donation to be given, and you'll help to plant new trees to replace those that have been lost, and to help save existing trees that have been distressed.